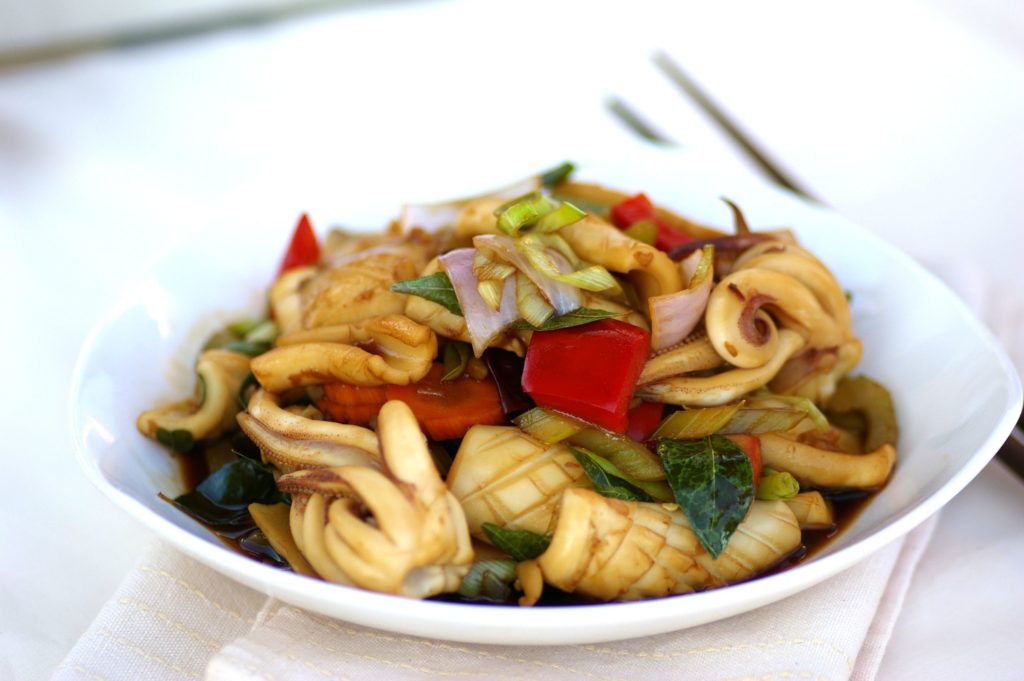 February is almost over! Why not end your love month with this Wei Wei Stir-Fried Squid Sichuan Style. This squid dish is quick and easy to prepare. Plus, it has that special chewiness that your loves ones will surely love digging in.
Ingredients:
2 large Wei Wei squid tubes
¼ tsp salt
¼ tsp sugar
¼ tsp pepper
a little sesame oil
15g leek, sliced at a slant
30g red capsicum, cubed
30g celery, sliced
1tbsp sesame oil
1 clove garlic, chopped
6 dried chillies, cut into sections
10g young ginger, sliced
1 stalk spring onion, cut into 3cm lengths
Sauce:
1tbsp oyster sauce
1tbsp Worcestershire sauce
1tbsp light soy sauce
1tbsp black vinegar
1 1/2tbsp black vinegar
1tbsp sugar
1/2tsp chicken stock granules
1/4tsp pepper
125ml water or chicken stock
1tbsp potato starch
How to cook:
1. Score the inner part of Wei Wei Squid Tubes to form criss-cross pattern. Season it with salt, sugar and pepper.
2. In a wok or large saucepan, boil water and scald the squid for just a few seconds. Remove and drain well. Cut into bite sizes.
3. In a wok, heat the sesame oil and fry the garlic until lightly colored. Add ginger and dried chillies, and fry until aromatic. Add the celery, leek and capsicum. Toss and fry briefly for about 10 to 20 seconds.
4. Stir in the sauce ingredients and bring to a quick boil. Once the sauce thickens, return squid to the wok and stir-fry over high heat for a few seconds. Dish out and serve.
Get your FreshlyFrozen ingredients at Wei Wei Cold Store's 3 branches (Arranque, Cubao, or BGC) or in leading groceries and supermarkets nationwide. For more information, you may also visit our website at www.weiweicoldstore.com or our Facebook page at www.facebook.com/weiweicoldstore.ph.